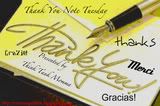 T
hanks to
Dual Mom
who borrowed it from
Think Tank Momma
, I decided to join the bandwagon and try my hand at being snarky with a few thank you notes:
Dear Teacher
:
Thank you for reusing your teaching materials for the past 5 years and only partially editing them for this class. It has really been a f*cking fantastical way for me to stretch my brain to try and figure out if something is due on a Tuesday or Wednesday. Also, I have really appreciated the added bonus of reading chapters that I didn't have to read. I can't tell you how many times I am sitting around doing nothing thinking "Gee, I really wish I had some more textbook chapters I could read." Oh and by the way keep the vague criticism coming, I love guessing what the h*ll you meant by your last comment, it's a real f*cking brain teaser.
Dear Cats:
You know what I love? Coming home to see you have ripped into a trash bag. It reminds me of how to stay on top of my cleaning. Just think, before you barged into my life I would actually leave a trash bag in the living room for 10 minutes before taking the hike to the dumpster. Please know when I am trying to cook dinner and I trip over you because you are waiting for a potential food drop, it reminds me how important it is to stay on my toes. Geez without you I would be completely lost.
P.S. I love it when you sit on a table and stare at me, it is really comforting to know that you
ar
e waiting for me to die
love me so much.
Dear Furnace:
It's like winning the lottery with you when you work. We've had a good last month, but remember when it was -30 outside and you would not turn on? That was awesome, it was like playing Russian Roulette - a real adrenaline rush.
A*S
Thx!!!
Dear Person Who Hit My Car And Left The Scene:
Thank you. Thank you so much for hitting my parked car so hard that I could drive it. Because of you I had the pleasure of driving a POS for three weeks with the added benefit of paying for it. Good thing you didn't leave your information, because it probably would've been a huge pain in the a*s for you and financially straining. I would hate to see you have to deal with anything like that. Lucky for me, it was a dream to deal with and taught me many life lessons.
F*ck
Thank you so much.
Dear Helpdesk:
Don't worry about fixing my laptop, it's no big deal. I know you have a lot on your plate and really at the end of the day my problem isn't that important. What do I need to connect to a network for? I can get so much done without email and internet access. I've really learned how to "do without." Thanks.
Dear Nameless Colleagues:
Thank you for letting me know you are too busy to meet that deadline or work on that project. I'm glad you told me in such a timely manner so that I have ample time to get it done. God forbid, you miss a night out, yoga or your favorite TV program to work on this. It's not really your job after all is it? Oh, it is? No worries, it's not like I have anything else to do. I am here to serve you. I know you need it done by Friday (for some f*cking reason completely unknown to me) and you need it done "like you would do it" because you so f*cking perfect and everything. You are so much better, smarter, more creative than I could ever be. You're the
biggest f*cktard on the planet
best!
Dear Extended Family:
Whenever we see each other, I just feel so dang welcomed by you. You always tell me how proud you are of my parents, my brother and me. And you are soooo open-minded. You've opened my eyes to all the different points of view there are in this world. You've always been so supportive of me being from parents of two different religious and ethnic backgrounds. You give me the nicest compliments on my physical features. It has become our regular game, hasn't it, trying to figure out if my hair is Mexican or Irish. How did my skin come out so pale? It's like a hereditary mystery. So proud to call you my family, thanks!
Dear Twilight Fans:
I love how much parade your love of Twlight. It is really interesting to me, really. I read the book, it was awesome, really awesome, so completely awesome. The writing was amazing, truly amazing, spectacularly amazing. And Edward? He is beautiful, so beautiful, so breathtakingly beautiful. No, I totally agree with you, Interview with a Vampire was too bloody and too dark. Vampires should glitter. Thank you for showing me the light.
Hmm, originally I was just going to do one, but d*mn that felt good! (kiss a*s apology to any Twilight fans who read my blog - please don't stop following/reading my blog, I will never mention it again)
Have a good night!